Creamy Chicken Alfredo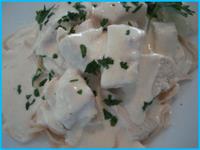 This creamy Chicken Alfredo is the smoothest, creamiest Alfredo that you have ever eaten. The addition of a little cream cheese at the beginning of the sauce deepens the flavors and serves as a bit of a thickener. It does require constant stirring until all ingredients are well blended after which is hold quite well without fear of breaking. Excellent for company, this is a first class winner!

Ingredients:
2/3C Butter
3 Tbs Cream Cheese
1-1/2 Pints of Half and Half

In a medium saucepan melt butter. Add cream cheese until it becomes soft and begins to break up. Then add half and half, stirring constantly with a wire whisk. Add:
2 tsp Garlic Powder
1-1/2 tsp Salt
1 tsp Pepper, freshly ground
1/2+ tsp Nutmeg, freshly grated

Continue whisking. . .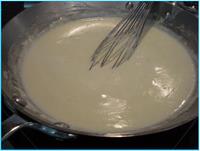 You will see how beautiful and creamy this is as you continue to whisk over low heat for about 20 minutes more, giving the seasonings time to meld into the cream. Turn your heat to the lowest setting and
Add a little at a time:
1C Parmesan, freshly grated*
3 Tbs Asiago, freshly grated
Whisk until the sauce is smooth and creamy.
The last step is to add your chicken
2C Diced Chicken Breast

*The first time I made Alfredo Sauce, many, many years ago, I used the parmesan that comes grated in a can and my sauce turned to a lump of paste. Ever since, I have used freshly grated parmesan (so easy to do with the advent of microplane zester/graters).
Add a small salad (we used fresh lettuce, tomatoes, black olives, and artichokes) and buttered toasted bread (like a baguette) and you have a beautiful, balanced meal for a family or company dinner!
Back to Previous Page