Chicken ala King
Chicken ala King is a somewhat old timey dish that brings back warm memories of chilly evenings, family laughter and a good sense of feeling full. This creamy dish is very versatile and can be served over rice, bicuits or toast, inexpensive to make and delicious to eat.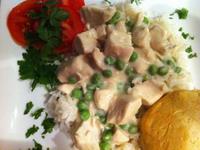 Our recipe is the traditional one but is easily adaptable to your family's taste preferences. Bell pepper (red, yellow or green), mushrooms, pimiento or corn are a few of the infinite additions that can be made. There are only a few ingredients required and best of all, it can be made in minutes if you have followed poaching chicken breasts ahead of time. So, as we happily say in the Everyday Gourmet kitchen,

Let's Get Cooking!
Ingredients:

1/2C Butter
1/2C Flour
1C Chix Broth, good quality

In a medium saucepan melt the butter over medium heat. Using a wire whisk, whisk the flour into the butter until smooth. This forms a paste (do not fear, if you continue to whisk it will be smooth). Add the broth, 1/2C at a time and continue whisking. You will now have a smooth, white gravy.
Stir in gently:

2 Chicken Breasts, diced bite sized
1C Peas
Salt and Pepper, a little at a time, to taste
Add additional broth, as needed, to reach a consistency that you like.
And, that's all there is to it! Serve it over rice, biscuits or toast for a warm, filling dinner.
Varietion:
For an interesting change: Add 1-2 tsp Curry Powder to your Gravy (be careful!) Sprinkle the top with coarsely chopped Peanuts and serve over Rice.
makes 4 servings
Back to Previous Page