Chicken Curry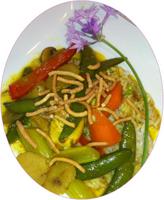 When you are in the mood for something a little different Chicken Curry may be just the right dish for you.
If you have had extra spicy curry in the past and are leery about using it, consider the sweet version which imparts the full spice flavor without a lot of heat.
We used the sweet curry the first night and when we made leftovers we added a teaspoon of the spicy since we enjoy a little heat in our dishes. If you have any doubts, start with the sweet and you can't go wrong. So, what are we waiting for? Let's Get Cooking!

Ingredients and Instructions: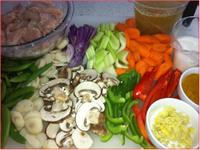 Chop into medium sized bit size pieces:
2-3 Carrots
2 Celery Stalks
1/2 Onion, Red or White
6 Garlic Cloves
6 Mushrooms
1 Tbs Ginger, minced
1/4 Green Bell Pepper, thin strips
1/4 Red Bell Pepper, thinly sliced strips

Have ready:
1 Can Water Chestnuts
1 C+ Sugar Snap Beans or Peas

2 C Chick Broth,
good quality
3/4 C Coconut Milk

1 tsp Chili Powder
2 tsp Curry, sweet or spicy to taste
1 tsp Salt
Cut and place in a medium small bowl: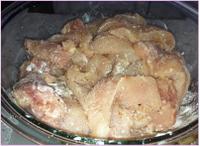 1-1/2-2# Chick Breasts
Dust with 1+ Tbs flour.

Please be careful to wash your hands, cutting board and implements used in the preparation to avoid contamination (always observe when handling poultry).
Let's cook!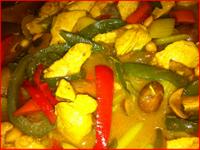 In a deep skillet or soup pan, heat over medium to medium-high heat:
Floured Chicken Cook and turn pieces until brown on all sides,.
Remove from pan and add:
Carrots, Celery, Onion and Bell Peppers cooking 3 to 4 minutes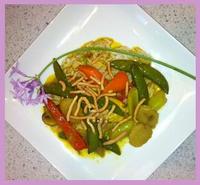 Serve over hot rice or noodles.
Sprinkle with peanuts, raw or roasted and/or Chow Mein Noodles.
If available, garnish with a delicate edible flower (shown is Society Garlic)

This is such a lovely and tasty recipe. And, if you have any leftovers, it is equally good on Day Two, see below for ideas.

Day Two

Place leftovers in pan and add to it:
1/2 C Sour Cream
2 Carrots, chopped
Additional Sugar Snap Beans or Peas, if on hand
1 Can Coconut Milk
1 Can Bamboo Shoots, if on hand
1 tsp Salt
1 tsp Cayenne Pepper (optional)
1 tsp Curry, hot or sweet

Gently warm and cook only long enough for the carrots to become fork tender.

Garnish as desired (suggestions above)