Chicken Noodle Soup Recipe
The "Feel Better" Soup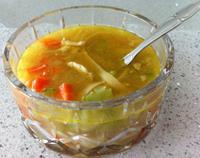 Chicken Noodle Soup is so delicious almost everyone loves it. It is great to dip crusty bread into it or to serve it with sandwiches or for a lighter meal with a fresh salad. It is so easy and inexpensive to make that it is shocking how many people just grab a can which lacks the flavor and nutritional value of homemade. Using homemade broth or fortified stock makes this a winner every time, but even making it with a good quality store purchased chicken broth will yield a better end product than just a can of soup. So, what are we waiting for Let's Get Cooking!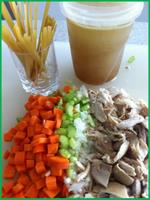 Ingredients and Instructions:
2 Carrots, chopped small
1/2C Celery, sliced, medium pieces
1/2C Sweet Onion, diced small
In a medium saucepan, melt:
2tbs Butter (or fat)
In the melted butter or fat, over medium heat cook until slightly tender:
the prepared carrots, celery and onion.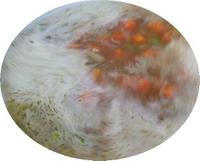 Add to the vegetables, slowly:
1 Quart Chick Stock, Fortified Broth or Purchased Broth
Bring to a boil and add:
1 oz Noodles (I measure a very small handful)*
Simmer gently for 15-20 minutes then add:
1-2 Cups of Cooked Chix, in bite sized pieces see: Poaching Chicken
Continue cooking over low heat, just until chick is heated through.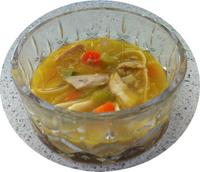 *For a little extra "gourmet touch" add interesting noodles. We especially like fettuccini broken in half, but you might want to consider tiny alphabets or stars if you are preparing it for small children or a tri-color small noodles to add extra beautiful color.
Whatever your choice of noodle, we guarantee that the flavor will be deep and wonderful with a beautiful end result making it ever so much better than mmmmm mmmmm good! And with the chick prepared ahead of time (or purchased cooked) it takes just about half an hour to feed your family the very best! Back to Soups