Soups Homemade from Scratch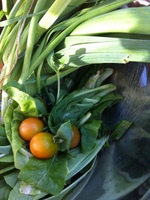 What is more delicious than Soup made from scratch? The colors are beautiful, a lovely aroma fills your home and the end result is satisfying, delicious and nutritious. Who doesn't like that?
If you prepare poached chicken ahead of time, you have a wonderfully flavored, fortified broth to begin with, or you may have your own chicken stock on hand, which means that preparing it from scratch can be done in minutes, making it a natural if you have a very busy life.
The most important thing to keep in mind while you are preparing it from the beginning is that layering flavors is the secret to a really great result. If you use a store purchased broth for example, you will certainly get a good result, but if you use fortified chicken broth or chicken stock, Stock vs Broth you are already beginning with a deep layer of flavor. In order to bump this flavor up, we begin almost all of our broth based foods by sauteing carrots, celery and onions (referred to as mirepoix) in a little olive oil. So, what are we waiting for?
Let's Get Cooking!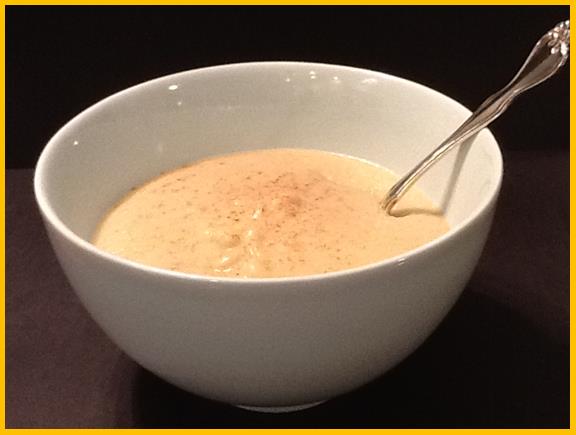 Perfect for cool weather, our comforting, creamy Cauliflower Soup is perfect for a main meal, a first course or for a snack to warm you up and sooth your mind.  It is easy to prepare and a very cost effective meal.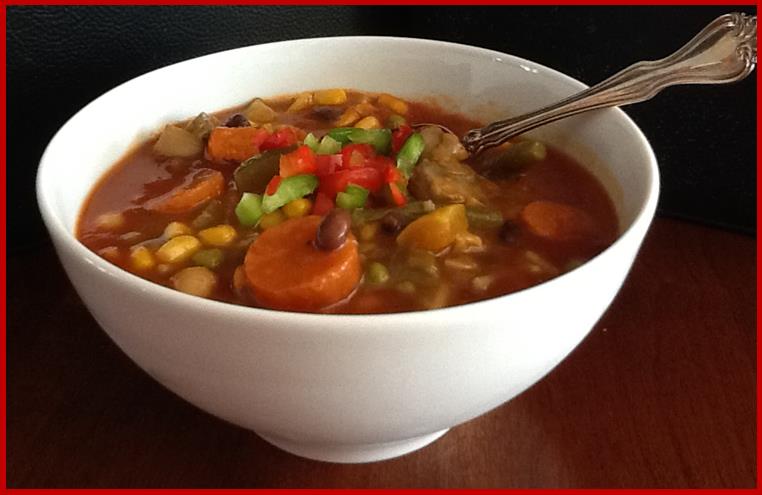 Healthy Minestrone is so wonderful on a cold day.  It is filling, hearty and tasty loaded with vegetables and beans with a deep, satisfying flavor!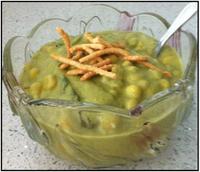 This Zucchini Soup is so smooth, creamy and delicious that it's difficult to believe that there is no cream in it at all. It is 100% Vegan but one of those *delicious to all palates* soups that no one will guess unless you tell them. And, if your kids like creamy, they will love this, just don't tell them it's made with healthy, wholesome zucchini!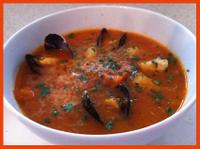 A great, satisfying seafood dish, Cioppino Soup is a perfect main dish for dinner guests or family. The base can be prepared ahead of time, even the day before, and final cooking takes only 3-5 minutes!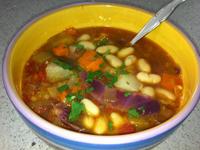 Minestrone is rich and Italian in flavor made with seasonal vegetables. Although this recipe is made with beef stock, it is equally as good with chicken or even vegetable stock. It comes together easily and is both beautiful and delicious!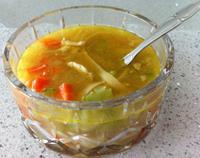 Chicken Noodle is a traditional American "feel better" food. An unbelievable 361 million cans are sold each year by one leading manufacturer! And yet commercially processed products lack the nutrition and deep flavors of the homemade version which is simple to make and cost effective.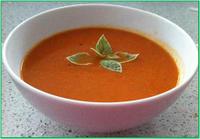 Another soup that we traditionally made by opening a can is Tomato Soup. This version, fresh and homemade, begins by roasting the tomatoes in the oven for 20 minutes, caramelizing them which adds a deep flavor that is indescribable. Simple and worth it!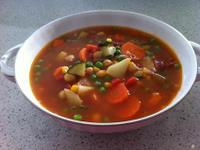 Garden Vegetable Soup, what could be better or healthier? Delicious fresh vegetables cooked to perfection in a chicken stock and tomato base. A few little tricks and this meatless dish matches the depth of flavor of any with meat in it.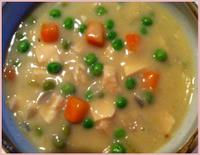 This Cream of Chicken is a smooth and silky, nutritious, soothing and delicious, particularly good on a chilly, rainy day. There are just a few ingredients and the technique is quite simple.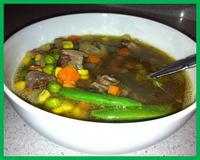 Beef Vegetable is truly an "oh my goodness, how good is that?" It is simple to put together and tastes so delicious and nutritious as well as inexpensive to make. Prepare extra and freeze it for a really fast dinnertime favorite!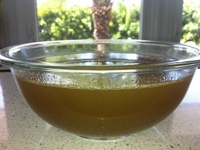 Homemade Beef Stock has deep flavor and the texture is fantastic. It takes a little time to prepare, but make it in quantity and freeze some for later use. It is a perfect starter for stews or gravies and it tastes wonderful by itself!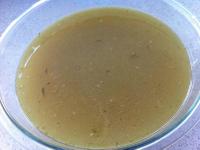 Chicken Stock is made with meat, bone in, extra bones from your butcher and fresh vegetables. It is simmered gently and then strained to produce a rich flavor and delightful texture. It requires fewer steps than beef broth and is a must for all cooks seeking excellence.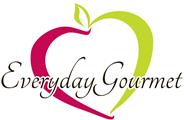 from my Heart to Yours
And, please visit The Green Gourmet Gardener for beautiful recipes straight from the garden!

Visit Healthy Soups and Sauces for Two More Great Soup Recipes!

From my Soup Recipes
to The Green Gourmet Gardener's Soup Recipes