Roasted Tomato Soup




Healthy and Delicious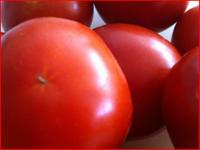 Roasted Tomato Soup, made from wholesome tomatoes, home grown or purchased from your local produce market or grocery store is the only main ingredient that you will need to make this wonderful soup, so good that both kids and adults notice its goodness. It is doubtful that you'll ever be tempted to open up a can again!
So, what are we waiting for?
Let's Get Cooking!
Ingredients and Instructions: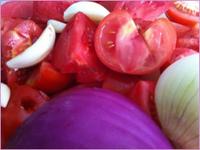 3# Tomatoes, quartered
3 Cloves Garlic, peeled
1 Onion, large Red, White or Yellow (or a combination of two or more to equal one large)
1/4 C Olive Oil, good quality
4C+ Vegetable Stock, homemade if possible
1 C Cashews, soaked in water for 4 hours or overnight
1/2 C Fresh Basil
Salt and Pepper to Taste
And, that's it for the primary ingredients. Optional ingredients are Bay Leaves (remove before processing in the blender) and up to 1/2 C chopped basil; be careful with this flavor if preparing for children - they may prefer it with less or without any.
Preheat oven to 450 degrees
Wash, core and quarter tomatoes. Chop the Onions into medium sized pieces (about the same as the Tomatoes). the Garlic in halves or thirds and the Basil. Toss with half of the Olive Oil and spread on a baking pan with a small rim, lined with foil for easy clean up if you wish. Once they are in the pan add a bit morel Olive Oil if they don't seem coated well. Roast for 20-30 minutes until tender and beginning to brown.
Remove from oven and carefully spoon into a large soup pan over medium to medium high heat. Add stock, salt, pepper and continue to cook for another 20 minutes, tasting periodically for additional salt and pepper.
The final step is to make it smooth and creamy. Place the Cashew Nuts into a VitaMix or high powered blender and process until it is broken up; then add the Roasted Vegetables and blend until it reaches the desired consistency.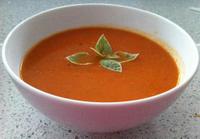 And you have now made Roasted Tomato Soup, beautiful, healthy and so luscious for your family.
What a way to show your family your love, as the Everyday Gourmet that you are!
The above recipe serves 4-6, can be easily doubled and freezes well.
from my Healthy Heart to Yours

from creamy Roasted Tomato Soup to Healthy Soups