Painted Apple Pie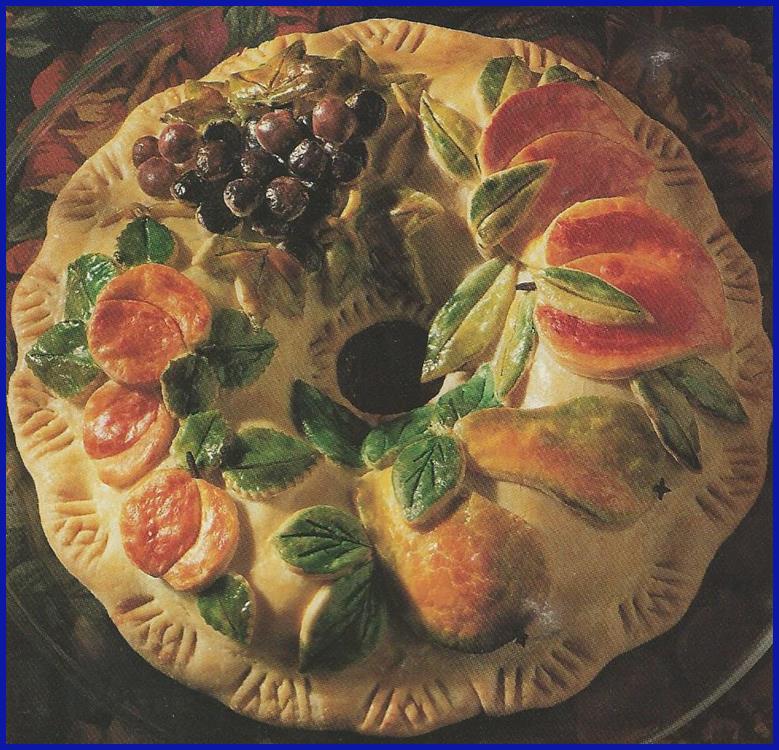 This absolutely stunning dessert can be made with apples, pears or a combination.  Although we enjoy both fruit we especially like this dessert made with apples!  
We have prepared this for gifts, fancy buffet breakfasts and, of course, for dessert tables.  
It is always met with delighted smiles and astonishment and is as delicious to eat as it is beautiful to view!
If you have time, the following recipe yields excellent results:
2-1/2 C Flour, All Purpose
1 tsp Salt
1 C cold Shortening or cold Butter
5 - 7 Tbs of Water, Ice Cold
Sift the flour and salt together.  With two table knives or a pastry blender cut the shortening into the flour until it is the size of peas.  In a small bowl, gently whisk 2 egg yolks with two tablespoons of ice water and gradually add to the flour mixture working the mixture with a fork and pushing the dough to the side as you work. When the dough is still stiff but no longer crumbles, you have the right amount of water. (Do not add more or your crust will be tough.) Also, do not be tempted to over mix. Knead gently and press the dough into two balls.
On a lightly floured surface place one ball.  Flatten it with your hand. Flour your rolling pin and beginning at the center of the dough begin rolling from the center to the edge with a light pressure, all the way around until you have a 11 inch circle of dough. Trim to a 10 inch circle, saving the scraps. 
At this busy time of year with all the home made dishes that we make from scratch,you may cut a corner by picking up Pillsbury Refrigerated Pie Crust Dough.

It comes two to a package so for this dessert you will want 2 packages (4 crusts). one crust to hold the filling, the second for the top and the third for decoration cut outs!  Of course the fourth crust can be saved for another use. 
Preheat Oven to 375 degrees
Line a large cookie sheet with Parchment Paper
Ingredients for Pie Filling
3 small Apples (or Pears)
1/4 C Sugar
2 Tbs light Brown Sugar
1 Tbs Cinnamon
1/4 tsp Ground Cloves
Grating of Fresh Nutmeg
1/4 C Pecans or Walnuts, chopped
1/4 C Craisins or dried Cherries
 Apples or Pears
Peel, core and cut in half.  With cut side down, make 6 to 8 slices without separating them. Set aside.
Sweet Seasoning
Stir sugars, flour, salt, cinnamon, cloves and nutmeg in a small bowl.  
Nuts-Craisins
In another small bowl measure chopped pecans (or walnuts) and Craisins 
Place the first rolled crust on the Parchment Paper lined Cookie Sheet. Sprinkle it with half of the Sweet Seasoning and Nuts-Craisins. Place the sliced Apple Halves evenly around the Pie Crust pressing lightly so that they will "fan out". Sprinkle with remaining Sweet Seasoning.
Now, roll the second crust into a 12-1/2 inch circle and drape over the fruit matching the edges of the top and bottom crust.  Gently press pastry around the fruit avoiding stretching the dough.
Cut a 1 to 1-1/2 inch circle in the center and crimp to seal with a fork. (see picture above) 
Roll the scraps out (or if using the Pillsbury Crust, take the third one out. Using a very sharp knife or fruit shaped cookie cutters, cut fruit and leaf shapes from the dough.
Brush the backs of the fruit cutouts with a little water and place them on the top crust, decoratively.  For grapes, roll little bits of dough into circles, dampen the bottoms with water and press them onto the top crust.
Use your imagination!

Have fun!
Pastry Paint: Stir 2 slightly beaten egg yolks and 2 teaspoons of water in a small bowl.  Divide mixture between four shot glasses or small seasoning dishes, stirring a different color into each glass. You will want the colors to be brighter than the end product since they will lighten as they cook.  Brush the color onto the cutouts.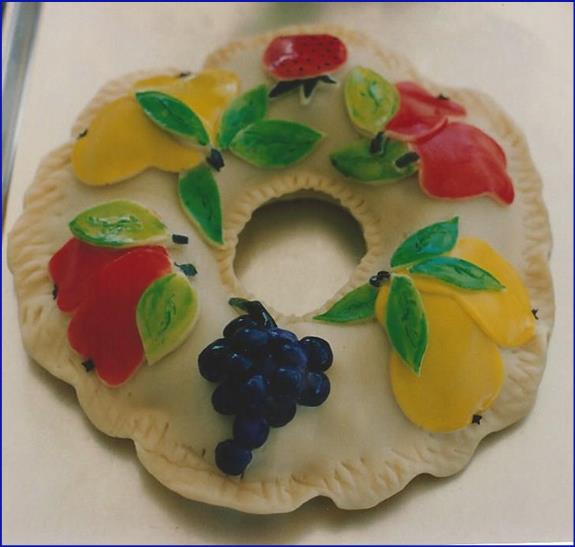 Whole cloves can be used at the bottom of the fruit cutouts to make them appear more realistic.
When you are satisfied with your work, place the cookie sheet in the preheated oven and bake 30-40 minutes, until golden.  Protect your cutouts by covering them with foil during the last few minutes, if necessary.
When done, let cool and carefully, using the parchment paper, transfer to a plate.
What a Masterpiece!
Buon Appetito!
This original recipe appeared in Better Homes and Gardens Special Interest Publications/Holiday Cooking/A Taste of Country, 1993
It appeared as Della Robbia Fruit Tart
We have made changes over the years to better enhance the flavor and appearance.  The pictures with the peaches are of the original recipe, the bolder colored pictures are from our kitchen.
This lovely little dessert NEVER disappoints!
from Painted Apple Pie to HomePage