Dried Beans

Purchasing and Cooking

Until two years ago, we had never purchased dried beans, except rarely a little prepackaged bag for soup from the grocery store.  Beans for other things such as Chili, we bought canned.  The thought of going to an organic store and buying dried beans somehow felt a bit overwhelming to me.  And, then to figure out how to cook them and what to use them in!
One of the best tricks I learned was to take along one plastic quart container. Go to the first bin of beans you are interested in and fill the container.  Empty them into the bag provided and continue with the rest of your selections.  When I first began shopping this way, I didn't have any idea of how much I needed of what.  So I would end up at home with flimsy little bags, some filled to the top and others not so much and wonder what I was going to do with them.  
With my quart container method I purchase exactly what I need, generally two quarts each of Black Beans, Kidney Beans, and Garbanzos; one quart each of Cannellini and Pink Kidney Beans plus a half a quart of Pinto Beans.  That is simply our preferences. Choose what you and your family like.
My sister-in-law, Lynn, told me that she is using Canning Jars to store hers in which is a great idea!  Nice and neat and you always know what you have on hand at a glance. In no-time you will be a Bean Purchasing Pro!
Now, what to do with them?  Keep reading!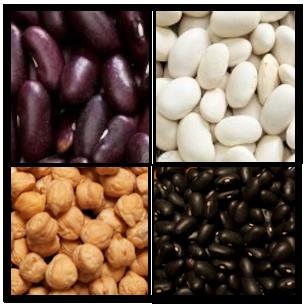 Cooking Dried Beans is not difficult, however it does take a little time and planning.  The end results are definitely worth it.  
We're not sure exactly why so many of us are hesitant about doing it for the first time, however we fit into that category.  Once we made our first batch, we never again considered using canned beans for anything, from our Black Bean Brownies to our Chili. We love having them in the refrigerator to use in Salads and Soups. Very healthy. Very delicious
While you can purchase these at most grocery stores, we recommend that you find a whole foods healthy store.  The selection will be much larger and cost somewhat less.  Eventually after doing this a few times, you will likely choose several types that you like best.  Ours are Garbanzo, also known as Cece or Chickpeas (my favorite), Dark Red Kidney (hubbie's favorite), Cannelini or White Kidney Beans and Black Beans.  We use all four in our Vegan Chili and almost always have at least one variety cooked and in the refrigerator for other uses.
I am also partial to roasted Garbanzos and Hummus which is primarily mashed Garbanzos.
It is generally a good idea to begin the night before you plan to cook them.  In a large bowl, place the dried beans and cover with fresh water (filtered is always best).  The beans will expand to approximately three times in volume, so make certain that your bowl is large enough to accommodate the expansion.
Soak overnight.
When you are ready to cook them in the morning (no rush) pour them into a strainer and rinse thoroughly picking out any "bad beans".  We are not too fussy and primarily remove the broken ones.
Place the beans in a large soup or stock pot, cover with water and bring to a boil.  Do not use salt as this could toughen many types of beans during the cooking. Once boiling, turn the heat down to a rapid simmer.  As it begins to cook, a layer of scum will form on top; simply skim it off.   
You will find that cooking times given vary greatly.  Our method is to set the timer for 40 minutes and then taste.  You will know right away if they are done enough for you.  Generally we will add ten minutes to our cooking time, but not always.  We find that Kidney types and Black Beans take a little longer than Cannellini or Garbanzos.  There is no right or wrong regarding the end result; it is how you and your family like them the best.  We like ours a bit firmer than many we've eaten and quite a bit firmer than what you get in a can.
Once they are done, carefully remove from the stove and pour them into a strainer. Important: if you make soups and stews from scratch, place a bowl under the strainer to catch the liquid.  This is absolutely wonderful to use in cooking - adding a deep, rich flavor to soup/stew.
Once well drained, put them in storage containers and refrigerate until ready to use.
You will be amazed at how easy dried beans are, how good they taste and how many uses you will find for them.  
Buon Appetito
from my healthy heart to yours!

from Dried Beans back to HomePage