Red and Green Stuffed Peppers
Beautiful Stuffed Peppers are perfect for Vegans (just leave off the Shrimp garnish or use Black Olives), Vegetarians or Carnivores. Filling, festive and very flexible, they are not compromised at all if you leave them in a low oven longer than the recipe states and best of all this lovely little dish can be made and stuffed the day before baking.
This recipe requires quite a bit of chopping, however it can be done up to two days in advance of cooking.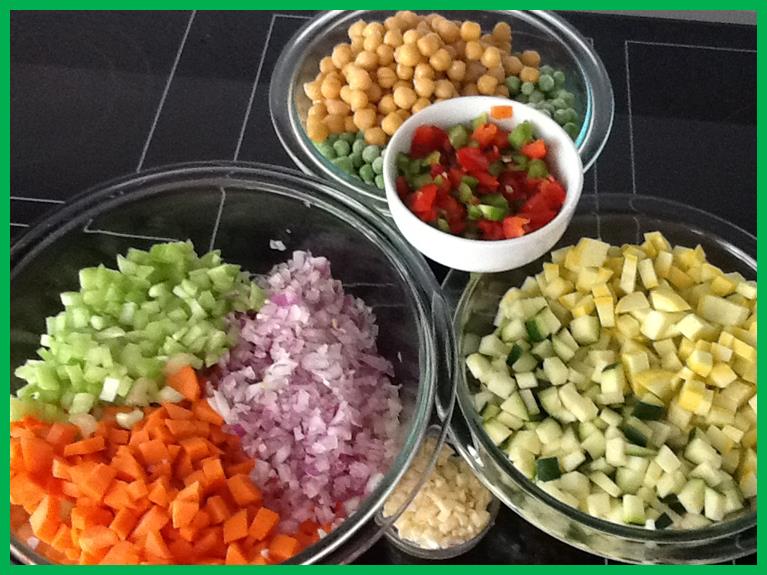 Ingredients:
6 Bell Peppers, 3 Green, 3 Red (or, your choice)
When you purchase the Peppers, turn them upside down and see whether they have three "bumps" on the bottom or four.  (Three are males, four females) For this recipe you will want the female peppers since they will stand up better.)
6  Carrots, diced small
2  Celery Stalks, diced small
1  Onion, medium, diced small
1  Garlic Clove, minced
1  Zucchini, diced small
1  Yellow Squash, diced small
1 C Peas, fresh or frozen
1 C Garbanzo Beans
3C Cooked Rice, Brown or Wild
Diced Pepper Tops
1/2 C Vegetable Broth
1/2 tsp Cumin (optional)
2-4 Tbs Tamari or Soy Sauce
Hummus (optional)
Salt and Pepper to taste
Clean the Peppers well and cut the tops off.  Make certain that you leave the trimmed Peppers about the same size (better for presentation) and remove the large  If desired, spread a light coat of Hummus on the inside. Dice the flesh portion of the tops.  Set aside.
Spray a large skillet with non stick spray, then spray again with a good olive oil.  If you don't have a sprayer for your olive oil, place 1 Tbs in the pan and heat it on medium high.  You want those first vegetables to really sizzle when you saute them; this becomes your first flavor layer.  Begin with the carrots, onions and celery and saute until they begin to soften and you notice a lovely aroma. Next add the garlic and continue to saute for another minute or two.  Do not take your eyes off of the pan during these first few minutes or you may burn them - not something you can recover from.
Add the Tamari, Zucchini and Yellow Squash stirring gently and frequently.  Next add the Cooked Rice and about 1/4 C of the Vegetable Broth.  Continue stirring to break up the rice and integrate it well.  Add Cumin, if desired and Salt and Pepper.  Lastly, add the Peas and Garbanzo Beans and stir until heated through.  If the mixture begins to dry out add a little more Vegetable Broth, being careful not to make it too wet.
Turn off the heat and you are ready to stuff the Peppers.
Spoon the mixture into the prepared Peppers and place on a baking sheet.
Bake in preheated 350 degree oven for 30 minutes.  If your are not quite ready to serve, turn the oven down to 200 degrees for up to an hour.
If desired, use a holiday pick and add Black Olives or Shrimp.
If you are serving other courses, depending on the size of your Peppers, one each would be enough, otherwise consider serving two for an adult.
This is a great dish to serve since it is consistently lovely, all comes out at one time and can be held on warm without compromising the quality.
Buon Appetito!
from Stuffed Peppers to HomePage