Zucchini Mold

a tasty dip or refreshing salad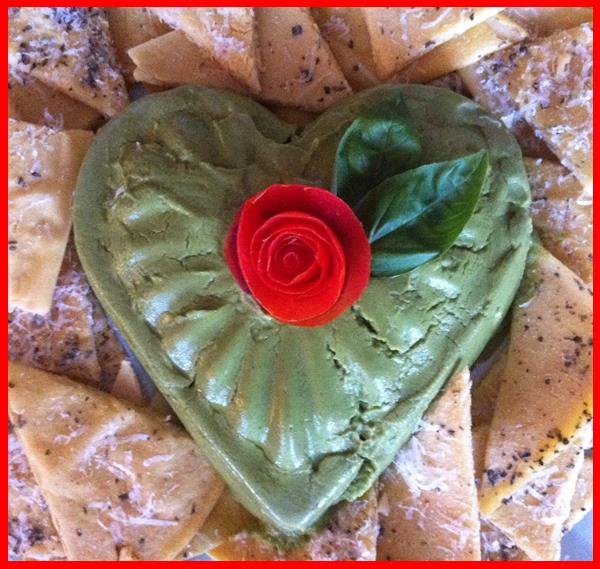 A Zucchini Mold is a lovely dish - either made for a dip (as shown) or as an individually molded side salad (prepared in a custard dish on a bed of spinach or lettuce.
It is easy to make and delightful to serve, of course garnished with a tomato rose or fresh basil leaves (we used both here).
It can be presented with a variety of crackers, Garbanzo Flat Bread Triangles or, of course, fresh vegetables.
So, Let's Get Cooking!
Prepare your Mold or Custard Cups (makes 8 - 10 1/2 C servings) by spraying with non-stick spray.  Run your finger or use a paper towel to gently soak up extra fluid sitting at the bottom of mold.

1 large Onion, medium dice
3 Garlic Cloves, minced
5 medium Zucchini, medium dice
6 Basil Leaves, fresh if possible
1/2 tsp Thyme, dried
1 tsp Herbs de Provence
4 C Vegetable Broth*

1/4 C raw Cashews, soaked**

4 C Baby Spinach

2 C Corn, fresh or frozen

1/4 tsp Pepper, more to taste

Pinch of Salt

Agar Agar (1 tsp per C of liquid)

*Everything always tastes better if it's homemade, but if you don't have any on hand, the store bought is fine. Just look for low sodium.

**Soak cashews in water for at least two hours.  Overnight is the best.  They soften and when processed create a very creamy texture.
Spray a large soup pan with Olive Oil (good quality) and over medium high heat saute the onions and zucchini, moving them around in the pan constantly (stirring gently).  When the onions begin to soften add the garlic, basil, thyme, and herbs de Provence. Continue stirring gently. Spray a bit more Olive Oil if necessary to prevent sticking.  When well combined and fragrant, add 3-1/2 C of vegetable broth and corn, bring to a boil and immediately reduce to a rapid simmer. Add Spinach and simmer until ingredients are very tender.
Place soaked cashews and the remaining vegetable broth into your high powered blender (or, food processor) and process until smooth and creamy (it looks like cashew milk).  Add the cooked mixture (in batches if necessary) and process until smooth.  Return to soup pan over low heat.
Add 1 tsp Agar Agar Powder per each cup of liquid and boil for two minutes whisking constantly to integrate and dissolve the Agar Agar.  
Immediately pour your mixture into your prepared molds.  Your Zucchini Mold will set up at room temperature.  Or, you can refrigerate it. (It is a good idea to store your end product in the refrigerator.)
If you are using individual custard cups to make a side salad, unmold it on a small salad plate over a handful of baby spinach leaves.
For use as a dip, serve surrounded by crackers, flat bread or veggies.
Buon Appetito!
from my Heart to Yours!


from Zucchini Mold back to HomePage