Zucchini Crisps
warm and crunchy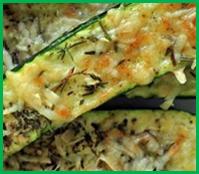 Zucchini Crisps are a delightful, easy to eat appetizer that will disappear as quickly as you put them out.  They are delicious and so easy to make and serve.
The recipe appeared on my Face Book Timeline but there is not a name attached to credit.  We made a couple of very slight variations and have made it a regular in our kitchen.  You will love to make them and your family will love eating them!
Ingredients:    (so simple)
4 Zucchini, small and sliced in half
1/2 C Parmesan or Asiago Cheese, freshly grated
1-2 TBS Rosemary, fresh if possible, chopped*
1-2 Basil Leaves, fresh and finely chopped*
1/2 tsp Herbs de Provence, optional
1/2 tsp Olive Oil
Salt and Pepper to taste
Line a baking pan with foil for easy clean-up.
Preheat Oven to 350 degrees
For eight servings, wash four Zucchini  and cut in half lengthwise. 
| | |
| --- | --- |
| | With a pointed spoon, make a ridge down the center |
Mix Olive Oil, Parmesan or Asiago and fresh Herbs (use dried if that's all you have available).  Now gently spoon the mixture down the ridge you have created.  Add Salt and Pepper to taste.
And that's all there is to it!  Place the baking pan into the preheated oven and bake for 15 minutes.  (if making this for company do this much ahead of time.)
Then broil for 2 to 5 minutes until golden brown begins to show - watching VERY closely so they don't burn!
The beautiful aromas float through your kitchen and lovely colors provide a real visual treat!

If you have your Zucchini Crisps baked ahead it is only a matter of 2-5 minutes before you serve them piping hot.  We served them with cocktails but think they would be perfectly lovely with a dinner salad or soup.

You could certainly use Herbs of your choice, even spicy, to complement your entree. Additionally, other cheeses could be used, although too much cheese is not really a healthy alternative.  Be wise.

A real advantage if you are having a dinner party is that they are no-fail as long as you watch the broiler very carefully.

Buon Appetito!
from my Heart to Yours~

from Zucchini Crisps to Home Page