Fantastic Healthy Gravy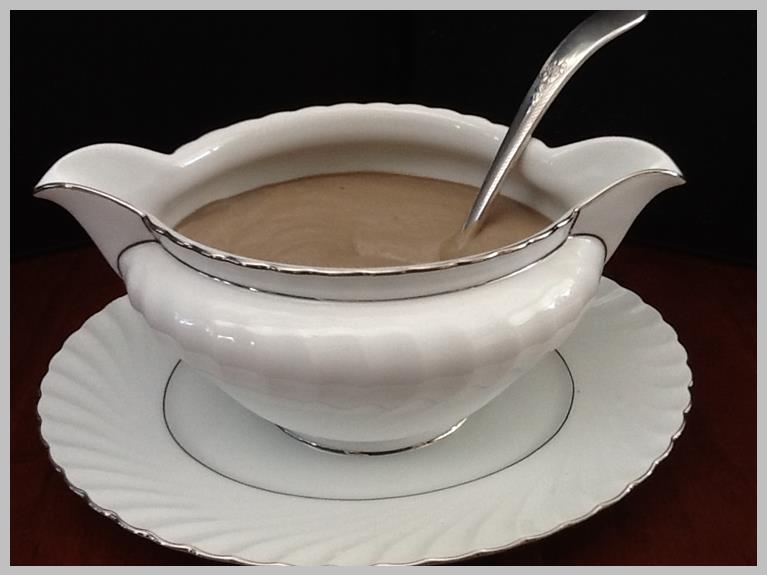 This Healthy Gravy still astounds us every  time we make it.  The texture is silky smooth and creamy and like meat gravies the consistency can be managed according to personal taste. 
We like it on everything, however we most frequently eat generous spoonfuls on baked potatoes - I have to remind myself that there is NOTHING unhealthy in it to keep from feeling guilty!  
You can use Vegetable Broth as the liquid or, when we cook Black Beans from dried we save the liquid which we use in gravies, soups and sauces.  It adds a heavy richness that we particularly like.
Ingredients:
2# Bella Mushrooms, chopped in large pieces
1/4 C Onions, large diced
2   Garlic Cloves, minced
1   Zucchini, peeled and diced
1/2 C Bean Broth or Vegetable Broth
1/2 tsp Kitchen Bouquet, optional
1/4 C Red Wine, or just increase the Broth and omit wine
6 oz Tofu, firm
Lightly spray a saute pan (frying pan) in a non-stick spray.  Add up to 1 Tbs of good quality Olive Oil. Now, there is a trick to maximizing the flavor and this is it:  saute the onions and mushrooms on high heat, stirring frequently to keep them from sticking.  Continue cooking them until they are almost (but definitely NOT) burned.  If you burn them you will have a bitter taste but browning them well really enhances their flavor.  
Then add Garlic, Zucchini and Broth and cook until the Zucchini is soft.  Add wine.  
Place your sauteed mixture into a blender, add the Tofu and blend until smooth, adding small amounts of your liquid as needed to achieve the consistency you want.  
Add salt and pepper to taste and be prepared to take bows as your family applauds you for this delicious gravy.
*Note:  please do not be tempted to omit the Zucchini or to leave the skin on.  We taste no Zucchini flavor but it definitely adds something very special to the texture.  If you leave the skin on, the color of your finished gravy will be dreadful.  (If you ask me how I know that, I would have to blush.)
from Healthy Gravy to HomePage