Buffalo Cauliflower Wings
truly Hot and Spicy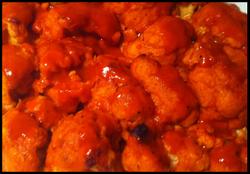 Buffalo Cauliflower Wings look like Buffalo Chicken Wings and from the first time I saw this recipe (karmachow.com) I was amazed at the appearance.  
The flavor is the same, however the texture is quite different.  The second time we made them, we increased the Garbanzo Flour in the coating to make it a little thicker.  It did not appear to make a huge difference, and certainly none in the taste.  Garbanzo flour doesn't crisp up the same way that white flour and oil do.  But, trust me, it is delicious and really fun to serve!
        So Let's Get Cooking          our Buffalo Cauliflower Wings!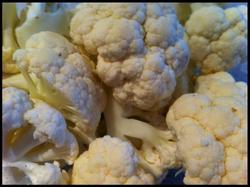 Cover a Baking Sheet with Foil, spray lightly with Non-stick Spray Preheat Oven to 450 degrees (F)
Begin by:
Washing thoroughly 1 head of Cauliflower, large 
Cut Cauliflower into medium sized pieces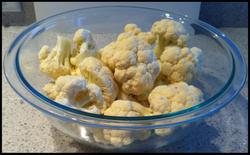 The easiest way to do this is to cut the green stem off the bottom. Then, keeping the Cauliflower upside down and cut through each stem.  It is very easy to see exactly where the cut should be made, making this little task neat and clean - always a plus in our kitchen.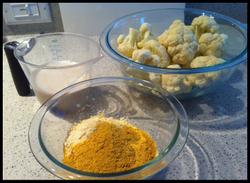 In a medium sized bowl place:
2 C Garbanzo Flour
1 tsp Onion Powder
2 tsp Garlic Powder
1/2 tsp Sea Salt, more or less to taste
3 TBS Nutritional Yeast
Now add 1-1/2 C Almond Milk, unsweetened
and whisk well until all the ingredients are well combined and free of lumps. Dip each Cauliflower Floret into the batter until well coated, letting the excess drip back into the bowl.
Bake in the 450 degree preheated oven for 20 - 25 minutes until the batter is lightly browned and crispy.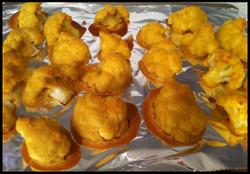 Although I do like "spicy" the next time we make this I will take my portion at this stage and dip the pieces into the spice mixture.  I think it tastes wonderful like this and plan to try the same technique with Mushrooms!
While the Cauliflower is in the oven prepare the "wing" sauce.
3/4 C Frank's Hot Sauce or preferred Buffalo Sauce
1/3 C Spicy Barbeque Sauce
1 tsp Cornstarch
1 TBS Earth Balance, soy free or 1 TBS Coconut Oil (optional)*
Warm the first two ingredients in a small saucepan over medium heat to warm up or microwave it in a micro-safe bowl just until warm, then stir Cornstarch and Oil (if using) into the sauce.
When the Cauliflower is done, remove it from the oven and spoon the sauce over each piece.  Return to oven for 5-8 minutes and when you pull it out your amazing Buffalo Cauliflower Wings will be ready to plate and serve immediately.
*We do not use the Earth Balance or Coconut Oil
Buon Appetito!
from my Heart to Yours~

from Buffalo Cauliflower Wings to HomePage