Vegetable Soup
Healthy and Hearty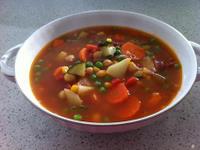 Vegetable Soup is such a wonderful soup to make from scratch. The steps are simple and the possibilities are endless. Use only the vegetables that your family loves to become their Everyday Gourmet.
This is a wonderful recipe for those of you who are new to the world of homemade soups and great for those more experienced. This recipe uses chicken broth and tomatoes for its base, however beef or vegetable broth would also work well. Remember, we are always looking for ways to layer flavor, no matter what we are cooking! So, what are we waiting for?
Let's Get Cooking!
Ingredients and Instructions:
Medium Chop:
1C Carrots
1C Celery
1 Onion, Red or White
1 Zucchini
2 Potatoes

Measure and Set Aside:
1C Corn, fresh or frozen
1C Peas, fresh or frozen
1C Beans, Garbanzo, Kidney, Cannellini (your choice)

4C Chicken Stock
2-3 Large Tomatoes, diced, or 1 Can of Petite Diced Tomatoes

2tbs Worhcestershire Sauce
2tbs Chocolate, unsweetened, good quality
2-6 tbs Spicy V-8 Vegetable Juice

Salt and Pepper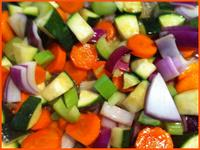 How beautiful is that?! Remember to take a second to enjoy the beauty of the food as you prepare it and of course appreciate the lovely aroma you create from your kitchen.
Coat large pan with olive oil and sautee over medium heat: carrots, celery and onions. Cook approximately 4 minutes and add zucchini and potato. Continue cooking for 4 more minutes. With temperature still on medium, carefully add the chicken stock and the tomatoes.
Stir in Worcestershire, Chocolate, V-8 Juice, Salt and Pepper (start with 1 tsp salt, 1/2 tsp pepper, then add more to taste). Simmer for 15 minutes.
Add Corn, Peas and Beans and cook until done (approximately 5 more minutes.)
Remember to taste, taste, taste!
Now, let's talk about seasoning and flavors. In everything we cook, we are looking for excellent flavor; I think of it as layering. We begin this and most soups with carrots, celery and onion (mirepoix) sauteed in good olive oil. What a wonderful first flavor layer.
We add to that layer the potatoes and zucchini, and then the chicken stock and tomatoes for a grand third layer! Be sure to taste at this point in time. If the vegetables are very flavorful and the stock is rich, you may decide that salt and pepper is all the seasoning required.
However, at times, the vegetables and stock alone do not contribute enough deep flavor. This is when we respectfully turn to seasonings. Some recipes recommend oregano or thyme in vegetable soup. We prefer the V-8, Worcestershire and chocolate to give it a deep mellow flavor (in fact we use unsweetened chocolate in many of our soups, stews and chilis for that reason.)
It is this process of tasting-analyzing-adjusting, tasting- analyzing-adjusting that will make you into a really good cook and be recognized as the Everday Gourmet that you are!
Back to Soups