Cream of Chicken Soup Smooth and Delicious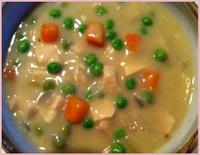 Cream of Chicken Soup is a classic family pleaser with few ingredients and such deep flavor layers that it is almost impossible to believe that it took minutes, not hours to prepare.

Assemble your ingredients before you start to simplify the cooking process.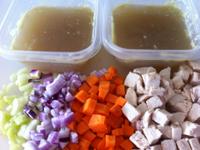 Ingredients and Instructions:

In a medium saucepan, sautee the following over medium heat for 4 minutes:
1/4C Butter
1C Carrots, chopped small or square diced*
1/2C Celery, cut lengthwise, then finely dice
1/2C Onion, diced small
1/2C Peas, fresh or frozen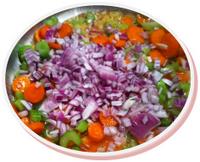 Gently stir into the sauteed vegetable mixture:
1/4C Flour


Cook for 1 - 2 minutes until vegetables are well coated then stirring continuously, add slowly:
4C Chicken Stock
Cook for 1-2 minutes until vegetables are well coated then, stirring continuously, add slowly:
1+1/2-2C Cooked Chicken, diced bite sized

The Finishing Touch:
Remove from Heat and add:
1+ tsp Sherry, good quality
1/4C Heavy Cream, Half and Half, 2% or Whole Milk
We prefer the Half and Half since it contributes to the extra silky, smooth texture of this wonderful soup!
If you have kids that are not especially fond of peas (my son's first complete sentence was "I do not eat peas") you can leave them out or substitute corn or green beans. This recipe doubles well and tastes as delicious on the second day as it did on the first. ~makes 4 servings~
Mmmmmm. So, so good!
*Tip: To make square diced carrots, lay carrot flat on cutting board and run a peeler across the length of the carrot a couple of times. Turn it and repeat, four times until the carrot is square and then dice!
Back to Soup from Scratch