Minestrone, Rich and Delicious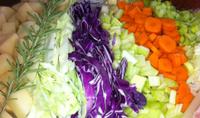 Minestrone is a rich, flavorful Italian soup that is made all over Italy. With its bold colors and homey fragrance it is delightful to make and delicious to eat. While there are many similarities to traditional American vegetable soup, both are made with seasonal vegetables (and only the ones that your family likes!) and can be made with beef, chicken or vegetable broth,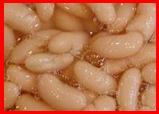 it must include white beans, cannellini (or Northern White)to make it authentic. Cannellini are delicate beans with a creamy texture. A portion of them are ground into a paste with their liquid and stirred into the broth and the remainder are gently rinsed and added to the soup.
So, put on your favorite Pavarotti Disc (optional) and. . .

Let's Get Cooking!
Ingredients and Instructions: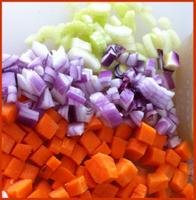 Chop in medium small pieces(the mirepoix: our basic three):
1C Carrots
1 Onion
1/2C Celery
Medium Chop:
Three more vegetables of your choice, 1 Cup each. We used potatoes, zucchini and trimmed green beans.
Now, thinly slice lengthwise:
1/4 Head of Green Cabbage
1/4 Head of Purple Cabbage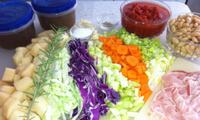 Assemble Remaining Ingredients:
3 Large Tomatoes, diced or 14.5 oz canned diced tomatoes
2 Quarts of Stock or Broth
1 Can Cannellini (or Northern White Beans)
1 Long Stem of fresh Rosemary (1 Tbs dried)
1 Medium Handful of fresh Oregano (2 tsp dried)
Salt and Pepper to taste

Divide the Cannellini in half and mash (or process) half; stir into Stock/Broth until smooth.
Take a minute to appreciate your preparation! The colors are so beautiful and the shapes varied. What a visual feast!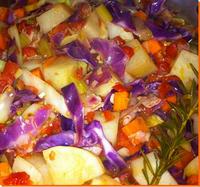 In your soup pan over medium - medium/high heat, add 2 Tbp of olive oil to coat the bottom of the pan. Sautee the mirepoix (carrots, celery, onion) for 3-5 minutes until they just begin to soften. Add the zucchini, potatoes and cabbage and continue to cook for another 2 minutes, add the tomatoes, stirring gently until the tomatoes begin to break down.
Stir in the Broth/Stock and turn heat down to a medium simmer. Gently add green beans and cannellini beans, rosemary, oregano, salt and pepper. Taste. Add more seasoning if needed. Simmer gently another 10-15 minutes.
Like all great Italian food, this tastes absolutely wonderful on Day One, and the leftovers taste even better on Day Two, so try to make extra!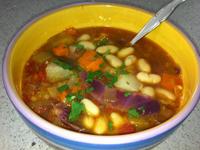 Serve with a good quality crusty bread and Buon Appetito!