Cioppino Soup





This unbelievably delicious Cioppino Soup starts with the freshest ingredients possible and ends with the seafood available in your area.

If you assemble all your ingredients first, it comes together easily. Perfect for company or family dinners.
Cioppino Soup was first created by Italian and Portuguese fishermen off the coast of San Francisco and was made with bits of fish from their daily catch. It is satisfying and tasty, with a stunning presentation.
So, what are we waiting for?
Let's Get Cooking!
Cioppino Soup Ingredients:

3# Fresh Tomatoes, quartered

3 Carrots, chunky cut

2 Celery Stalks, chunky cut

1 Onion, chopped

3-6 Garlic Gloves, quartered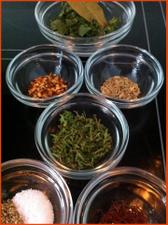 Measure Seasonings:
1 Tbs Fresh Oregano
(or, 1/2 tsp Dried Oregano)
1 Tbs Fresh Basil
1 Tbs Fresh Rosemary
1/2 tsp Fennel Seeds
1 tsp Herbs de Provence
1/2 tsp Black Pepper
1/4 tsp Crushed Red Pepper, more or less to taste
1/2 tsp Kosher Salt
1-2 Bay Leaves
Prepare Seafood:
We recommend that you make selections that you can obtain locally to guarantee maximum freshness for your Cioppino Soup. (Remember the originators of this dish used bits and pieces of their daily catch!)
The following is our choice based on local availability:
1/2# Shrimp, cleaned, deveined and tails removed
1/2# Scallops, medium-small
1/2# Tilapia, or any firm white fish, cut into 1" pieces
8-10 Mussels, or small clams*
Have ready for the Liquid:
1 quart  Vegetable Stock (homemade preferably, or purchased )
1/2 C White Wine, Dry Riesling or any white wine you like
While this soup requires a fair amount of overall measuring and preparation, once that is completed it all comes together beautifully and easily, making it fun to cook!
Instructions:
Coat the bottom of a large soup pan with a little Olive Oil. Turn heat to medium-medium high and saute the Carrots for approximately 3 minutes. Add Onions and Celery cooking for another 2-3 minutes; add Garlic and cook for 1 more minute. The vegetables should be starting to soften a bit and emitting a great aroma.
Now add the Tomatoes and Seasonings stirring gently to incorporate them into the vegetables.
Once the Tomatoes have cooked down and released their juices, you can use a blender, food processor or emersion blender to turn your Cioppini Soup into a smooth liquid,
blending it to the exact consistency that you prefer. We pulse our Vita Mix four to six times which yields a small, chunky texture. You can use any blender or food processor and pulse to the texture you prefer.  Or, you can opt to leave the vegetables very chunky, like stew.
Both styles are truly delicious and beautiful, so it is merely personal choice. If not blended the end result is more rustic, whereas blending yields a smoother consistency. Regardless of your choice, the final process is the same.
Continuing over medium to medium-high heat, add 2 cups of your Stock and the White Wine. stirring well. This mixture can continue to cook until just before you are ready to serve. Add the remaining liquid as needed. The fish which you have cleaned and cut takes only minutes to cook.
When you are ready, add all of the fish and mussels or clams, put a lid on the pan and cook on medium-medium low heat for 3-5 minutes. Please do not be tempted to cook the fish longer or it will make your shrimp and scallops rubbery.
And, you, the Everyday Gourmet have prepared a seafood dish, Cioppino Soup, to perfection!
Sprinkle with fresh parmesan and add a couple of pieces of garlic toast and wait for the praise from your dinner guests or family! This is so good. So very good.
*For excellent instructions on cleaning Mussels and Clams, please click on the following link:
http://gourmet.greatrix.com/archives/000785_cleaning_clams_mussels.php
This is not a difficult process even if you are a beginning cook!

from Cioppino Soup back to Soup from Scratch