Creamy

Cauliflower Soup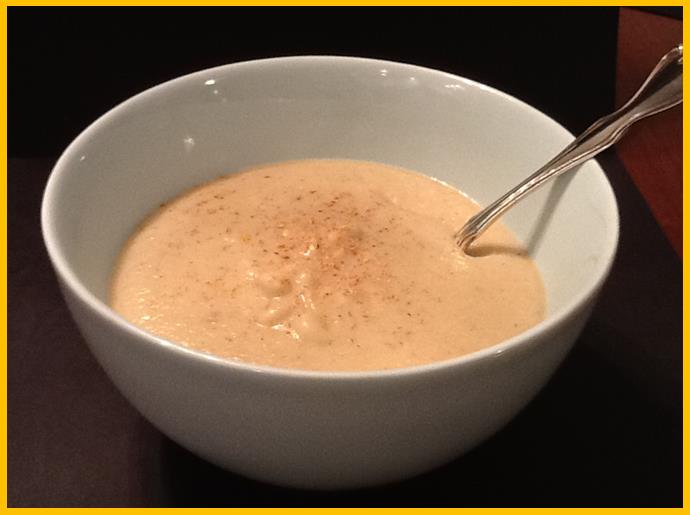 Our warm and creamy cauliflower soup meets our need, physically and mentally, during the cold months for comfort food and keeps it healthy. In fact, *hubbie* awards it five stars. He even thinks that we could ladle it over our Veggie Bowl as a gravy. Another possibility would be to fill the bowl half way with Veggies and then pour the Soup to the top!
In order to maximize the flavor, we cannot express strongly enough to follow the cooking instructions.  Remember, when cooking our objective is to build flavor layers and taking short cuts will prevent the rich flavors from developing.  They are not difficult but do required your full attention for approximately the first five minutes.
Ingredients:
1 head of Cauliflower, chopped
1 Onion, large, rough chopped in medium pieces
2 Garlic Cloves, minced
6 C Vegetable Broth
1 C Cashews, soaked in water*
1 Tbs Beau Monde Seasoning
Salt and Pepper to taste
Grated Fresh Nutmeg
Spray a large soup pot with non stick spray, then spray with a good Olive Oil.  If you don't have a sprayer for your olive oil, place 1 Tbs in the pan and heat it on medium high.  You want those first vegetables to really sizzle when you saute them which starts the first flavor layer. Watch them constantly and stir them gently moving the ingredients around so they don't stick.  
Begin with the Cauliflower, and Onions and cook until the aroma is strong and the Onions begin to brown (if the onions burn, you will have to start over since they will make the soup very bitter, so be careful at this step). When the Onions are light brown, add the Garlic and Beaumonde Seasoning; continue cooking another minute or two. Now pour the Vegetable Broth into the pan, turning the heat to high until it comes to a boil and then down to a fast simmer.
Simmer until the Cauliflower is soft.  Drain the Cashews and place them in your VitaMix or high powered blender.  Process until they are broken up then add the cauliflower mixture carefully and blend on high speed until very smooth and creamy. Stir in Salt and Pepper. (Don't forget to taste - adding more seasoning to taste.)
Your creamy and healthy Cauliflower Soup is ready to serve, or pour it back into the pan and keep it warm until you are ready.  Mmmmm So very delicious.
* Cover the Cashews with water and soak at least four hours.  We frequently soak them overnight.
from my Healthy Heart to yours


From Cauliflower Soup to Soup from Scratch