Hearty Healthy Minestrone

This Healthy Minestrone is just so especially good on cold days.  It is filling, simple to make and satisfies even the hungriest at the table.
Best of all it is nutrient rich and provides many essential vitamins and minerals.
As with almost all soups made from scratch, you have a great deal of latitude with the ingredients that go into the pot.  We always give you our preferences but do encourage you to use the vegetables and seasonings that fit your (your family's) taste profile, The following is ours:
Wash and rinse vegetables thoroughly.
6 Carrots, chopped in rounds
1 Celery Stalk, leaves included, chopped
1 Onion, large, red, yellow, white or combination
4-6 Garlic Cloves, to taste
1-2# Mushrooms, chopped in medium pieces
1# Green Beans, fresh, trimmed
2 C Corn, fresh or frozen or Garbanzo Beans*
2 C Peas or Red or White Kidney Beans*
3 qt+ Vegetable Broth or part Vegetable Broth, part Bean Broth**
5+ Tbs Spaghetti Sauce, homemade or good flavored purchased
1/2 Cabbage, red, green or bok choy, finely sliced in strips
Seasonings to taste:
We start with:
2 tsp Basil
2 tsp Rosemary
1/2 tsp Herbs de Province
1/2 tsp Oregano
Salt and Pepper
The amount of seasonings will vary based on how tasty your Spaghetti Sauce is.
Once your vegetables are prepared, spray a large soup pan with non-stick spray (or use a good quality non-stick pan.)  Spray it with good Olive Oil and turn heat to high. 
Place Carrots, Celery and Onion in hot pan and turn heat down immediately to Medium-High.  Stir the mixture gently and continuously until the Carrots begin to soften a bit.  It is important that you keep a steady watch on these vegetables so they don't burn. Turn heat down to Medium and add the remaining Vegetables and Beans. Cook for five more minutes.  Now add the Broth and turn heat back up until it comes to a boil, then turn down to a rapid simmer.
Add Spaghetti Sauce - taste and add Seasonings, adjusting until you like the intensity of flavor.  Continue simmering for 15 minutes and just before serving put the Cabbage in and gently stir. (If it becomes too thick, just add a little more broth until it is just the way you like it!) 
Serve with a crusty bread and a salad to make your Healthy Minestrone a complete meal!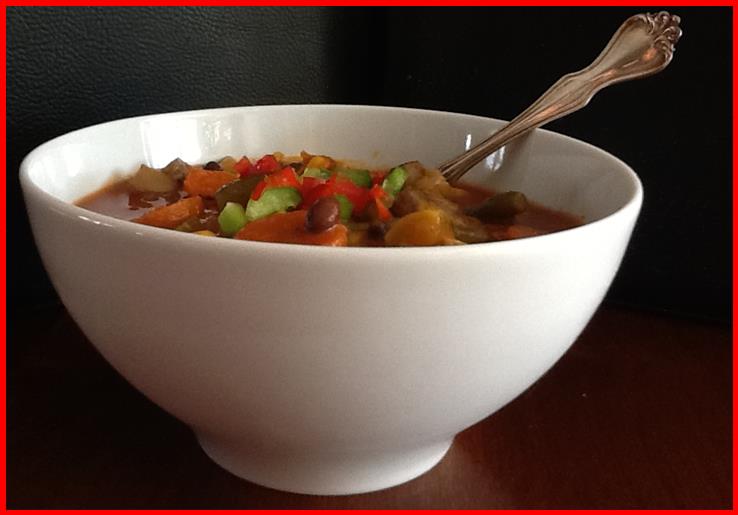 *We think the addition of Beans (Garbanzo and Kidney) makes it an even heartier dish.
**Bean Broth is what we save when we cook our dried beans.
Buon Appetito
from our healthy heart to yours


from Healthy Minestrone to Soups from Scratch