Citrus Peel Garnishes




Citrus Peel adds such great color with a little zing to many dishes and drinks. What is lovelier in the summertime than the vibrant colors and the sweetness, tang and tartness of citrus?

Learning a few basics takes that fish dish or glass of white wine to a new level using what many throw away, the citrus peel!
So, what are we waiting for?
Let's Get Cooking!
Lovely Citrus Butterflies could be placed in a corner of a dinner plate, or used as a final decoration on cooked fish or lemon chicken.

This garnish was learned from Buddy Valastro and will find its way to many Everyday Gourmet plates. Thanks Buddy!
This is so easy to make you'll wonder why you never thought of it before. It only takes a minute to do.

Cut an orange slice, then cut it in half, and cut the half in half. You will have four quarters. Place the points of the two quarters together to form the
butterfly wings. Add tiny slivers of rind for the antennae and you're done! Gently place the pieces where you want your decoration!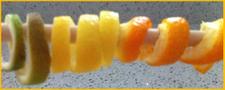 The Citrus Corkscrew is one of our favorites because it can be used to garnish in so many different ways. Desserts, Salads, and Dinner Plates.

Try dropping one, lengthwise into a glass of white or sparkling wine for that real gourmet touch.
| | |
| --- | --- |
| | Cut a slice of orange, lemon or lime and lay it on a flat cutting surface. With a sharp knife, make one cut into the rind which loosens it. Then take your knife and cut all the way around, in between the pith and the rind. That's it. You can then just twist it once as seen, or wrap it around a dowel several times, pictured above. |
Whatever garnish you choose, remember that little extra touch really does make a difference in the final presentation of the food which you have prepared so carefully. Don't miss the opportunity to add that little something extra. Again, the age old reminder: You eat with your eyes first!
from Citrus Peel Garnishes back to Beautiful Touches