Black Bean Brownies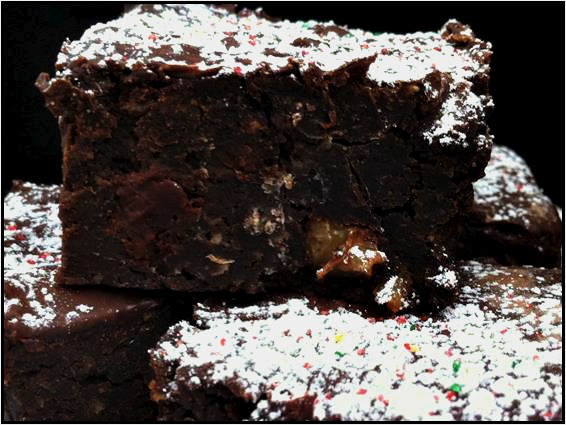 Black Bean Brownies are one of those truly amazing, healthy finds.  It is Vegan, Gluten Free and packed with nutrition.  We have taken  them to parties and served them as a dessert and no one realizes that they are healthy (unless we tell them.)  Try these rich, chocolaty and gooey treats, without fat, flour or dairy!
We have made an easy to use, convenient  Black Bean Brownie Mix so you can enjoy this fabulous dessert anytime! 
So, what's so good about eating BBB's for dessert?  
Well, they are  very high in fiber, folate, protein, and antioxidants, along with numerous other vitamins and minerals for starters.  They promote a healthy digestive tract as well as nervous system and cardiovascular health.  
Best of all, they satisfy that desire for a rich, chocolaty sweet without flour, sugar, butter/margarine or eggs.  They are gluten free and Vegan.
This recipe calls for the EverydayGourmet Black Brownie Mix.  If you follow the directions carefully, you will end up with a company worthy dessert, every time!
Preheat oven to 350 degrees
Ingredients:
3 C   BB's, rinsed and drained well
2/3 C Agave Nectar
1 Tbs Pure Vanilla Extract
1/4 C Water, filtered
1 pkg  EverydayGourmet BBB
In a food processor (blenders do not work for this job, even very powerful ones) place the BB's and process until well broken up.  Add the Agave Nectar and Vanilla processing until very smooth.  Add the dry packet and 1/4 C filtered Water.  Process until smooth and well integrated.  Batter will be thick but should process well.  If too thick, add a few drops of water until a stiff but spreadable consistency is reached.  
Add chocolate chip and walnut packet, if desired and combine well.
Place mixture in an 8x8 pan (for thick results), 9x13 for thinner ones.  Smooth the top carefully with an offset spatula or table knife.
Bake for 25 minutes.
Remove from oven and if adding chocolate frosting to the top, melt bag of chocolate chips either in a bowl over hot water, or microwave in increments of 20 seconds until smooth.  Cover the top with an offset spatula or table knife until covered.
| | |
| --- | --- |
| | Continue to let cool in pan.  We place it in the freezer for 20 minutes so the slices have a very clean edge. |
| | |
| --- | --- |
| Cut into 16 even pieces and try to keep hands off until dessert time (something we have yet been able to accomplish! | |
So very delicious.
So very healthy!
Buon Appetito!
Return to Sweet Surprises from Black Bean Brownies