creamy

Broccoli Soup
Broccoli Soup is one of those soups that takes very little time to make with an end result that makes it seem like you have been working on it for hours. The four main ingredients are Broccoli, Onions, Soaked Cashews and Vegetable Broth.  If you don't want it creamy then omit the Cashews.  When ground these wonderful nuts add a texture to dishes that acts in much the same way that cream does.
Only healthy.  This soup is very nutritionally dense.
Ingredients:
6 bunches of Broccoli, washed well and cut into medium pieces*
1 Onion, large, any color or a combination, medium dice
3 Garlic Cloves, minced
2 Tbs BeauMonde
1/4 tsp Herbs de Provence 
Salt and Pepper to taste
1-1/2 C Cashews, soaked in water 
2+ quarts Vegetable Broth or a combination of Vegetable and Bean Broth
In order to maximize the flavor, we cannot suggest strongly enough to follow our cooking instructions.  Remember, when cooking our objective is to build flavor layers and taking short cuts will prevent the rich flavors from developing.  The instructions are not difficult but do require your full attention for approximately the first five minutes.
Spray a large soup pot with non stick spray, then lightly spray with a good Olive Oil.  If you don't have a sprayer for your olive oil, place 1 Tbs in the pan and heat it on medium high.  You want those first vegetables to really sizzle when you saute them. This starts the first flavor layer. Watch them constantly and stir them gently moving the ingredients around so they don't stick.
Begin with the Broccoli, and Onions and cook until the aroma is strong and the Onions begin to brown (if the onions burn, you will have to start over since they will make the soup very bitter, so be careful at this step). When the Onions are light brown, stir in the Garlic and the and Beaumonde Seasoning; continue cooking another minute or two. Now pour the Vegetable Broth into the pan, turning the heat to high until it comes to a boil and then turn it down to a fast simmer.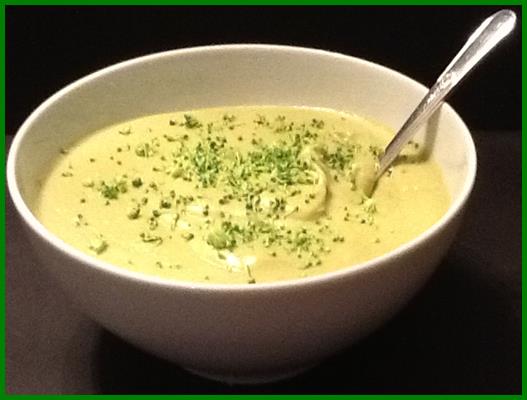 Simmer, stirring occasionally, until the Broccoli is soft, approximately 10-15 minutes. Taste to see if the seasonings need to be adjusted. Drain the Cashews and place them in your VitaMix or high powered blender. Process until they are broken up then add the broccoli mixture carefully and blend on high speed until very smooth and creamy. This may require two or three batches, depending on the size of your blender. Stir in Salt and Pepper. (Don't forget to taste - adding more seasoning if desired.)
Pour your delicious creamy Broccoli Soup back into the pan and keep warm until you are ready to serve.
For a simple garnish lightly shave several Broccoli Florets and sprinkle them on top of each bowl or you could lightly steam a few florets and serve them on top.
So good. So smooth. So very healthy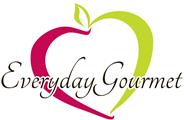 from my healthy Heart to Yours


from Broccoli Soup to HomePage