Gourmet
Cranberry Relish
We had never been huge fans of Cranberry Sauce until we discovered this recipe from California Cooking* many years ago.  After making the relish for so many years, we wondered if we could also make a Jellied version (the texture that comes in the cans without the dreadful taste). The good news is that we were tremendously successful and now prefer it even to the delicious Relish.  We generally serve it both ways!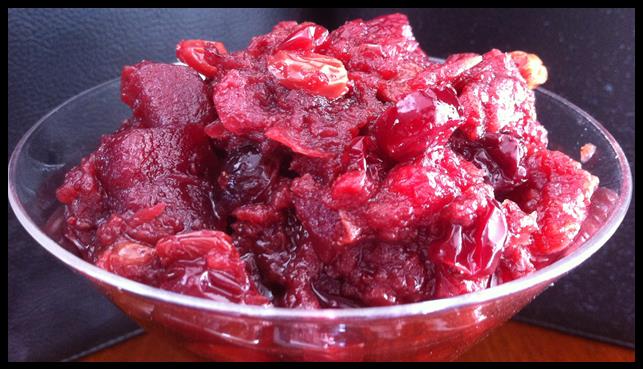 So very good.
Let's Get Cooking!
Gourmet Cranberry Relish
Ingredients:
3 Apples,  1 Granny Smith, 1 Fuji,  1 Honey Crisp*
2 Pears, peeled, cored, diced
2 lbs Cranberries, fresh
1 C  Golden Raisins
2 C  Sugar
1 C Orange Juice, freshly squeezed
2 Tbs Orange Rind, grated
2 tsp Cinnamon
1/4 tsp Nutmeg
1/2+ C Grand Marnier
*Use whatever apples are available to you.  For maximum flavor, try to use three different varieties. 
In a saucepan mix all ingredients except the Grand Marnier and bring to a boil.  Reduce heat and simmer for  uncovered for 45 minutes until thick and bubbly. (If you have never made fresh cranberries before, you will be surprised when they pop as they cook - we love the sound.) Stir in the Grand Marnier.  Once it has cooled to room temperature cover with plastic wrap and refrigerate.  Can be made several days ahead of time. 
Gourmet Cranberry Sauce
If you love the smooth texture of Cranberry Sauce (as I do), prepare the Cranberry Relish above.  Instead of refrigerating after it cools to room temperature, run your mixture through a sieve or food mill, pressing and mashing the berries as you work until you have extracted all of the moisture. 
Prepare 1 tsp Agar Agar according to package instructions (Vegans/Vegetarians) or soften 2 Tbs plain gelatin in 1/2 C cold water. When done add the gelatin to the cranberry liquid.
Place in a lightly oiled mold (we use non-stick spray) or in individual serving dishes, cover with plastic wrap and refrigerate for at least 12 hours. A perfect side to make several days ahead of serving time.
This is so, so good and better than any Cranberry Sauce you have ever tasted before!
From Cranberries back to HomePage