Shrimp Louis Salad,
Beautiful Look! Great Taste!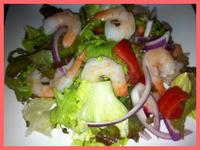 What a wonderful, crisp salad Shrimp Louis is! It was first created in San Francisco over one hundred years ago to feature the areas fresh bay shrimp and crab. I first discovered it many years ago when I was a teenager and delighted in hunting for every little shrimp that had worked its way to the bottom of the salad.
The primary ingredients are good, fresh lettuce, small pieces of avocado, tomatoes, and hard boiled egg. I have added many more vegetables but have left the Louis Dressing (smooth and tasty) just as is in the the original recipe. Can't improve on perfection! So, what are we waiting for? Lets Get Cooking!
Ingredients:
Carefully select good lettuce. We pick our own and try to choose what would be considered a "Spring Mix" in the store. You might want to make 1/3 of it iceberg for added crispness and crunch. The proportion of lettuce to vegetable is purely personal preference; you can always add more lettuce if it is too veggie laden.
The Classic Version:
6C Mixed Lettuce (approximate amount), torn
1 Avocado, peeled, pitted, halved and sliced
1 Tomato, cut into wedges or Cherry Tomatoes
1 Hard Boiled Egg, sliced
1/2-3/4# Bay Shrimp
Arrange the lettuce on a plate, a few large leaves on the bottom with the smaller cut up ones top. Arrange wedges of avocado, sliced or wedges of egg, and wedges of tomato or cherry tomato around the edge in an attractive fashion. Mound the shrimp or crab in the center. Serve with the Louis Dressing in a pitcher on the side.*
Makes 2 Main Course or 4 First Course Salads.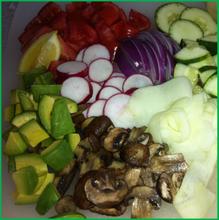 The Classic Version Updated:
6-8C Mixed Lettuce, chopped
1 Avocado, peeled, pitted and chopped, small bites
1 Tomato, Chopped into bite sized pieces
1/2 Cucumber, Sliced**
1/2C Mushrooms, Sliced (raw or sautee lightly)
1/2 Onion, Red, White or Sweet, thin sliced
1/2-1# Shrimp, Medium sized, cooked and deveined
Cucumber Ribbons, optional***
In a large salad bowl gently toss the vegetables and lettuce together (clean hands are best for this job!)Add shrimp and toss a bit more (reserving a few shrimp to garnish the top of each salad).
Place salad on plate with a few of the reserved shrimp. Serve with a pitcher of Louis Dressing*.

Louis Dressing: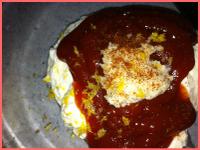 In a medium small bowl, measure the following:
1-1/2C Mayonnaise, good quality
1/4C Chili Sauce

3 Tbs Green Onions,finely minced with tops
3 Tbs Green Pepper, finely minced
1 Tbs Lemon, grated

1-1/2 tsp Worcestershire Sauce
1/4 tsp Hot Pepper Sauce (to taste)

Salt/White Pepper, to taste

Whisk ingredients together until integrated and a soft pink color.  So very delicious!
Beautiful Food Tips:
**Cucumbers: Run a fork lengthwise through a cucumber, all the way around, then slice as normal.
***Cucumber Ribbons: Peel cucumber, then run a (potato)peeler lengthwise down the entire side and see the ribbon effect. Wrap the slice around a pencil then place "ribbon like" on top of your dish.