Thick Vegan Minestrone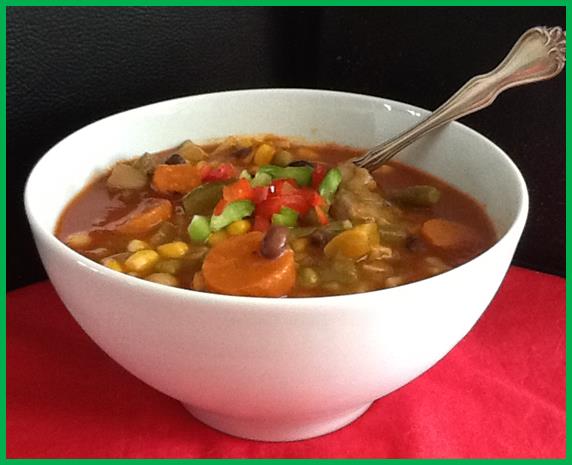 This thick and delicious Vegan Minestrone is a perfect and filling meal to have on hand, especially during the cold months.  It freezes well and the flavors deepen so it's delicious the first time you make it and stays yummy until you eat the last drop.  The prep time takes awhile chopping all those lovely fresh vegetables but it comes together quickly once the cooking begins.  So worth it.  Your house will be filled with a lovely aroma and your children will ask for seconds.  A great way to get more nutritious vegetables into your family's diet.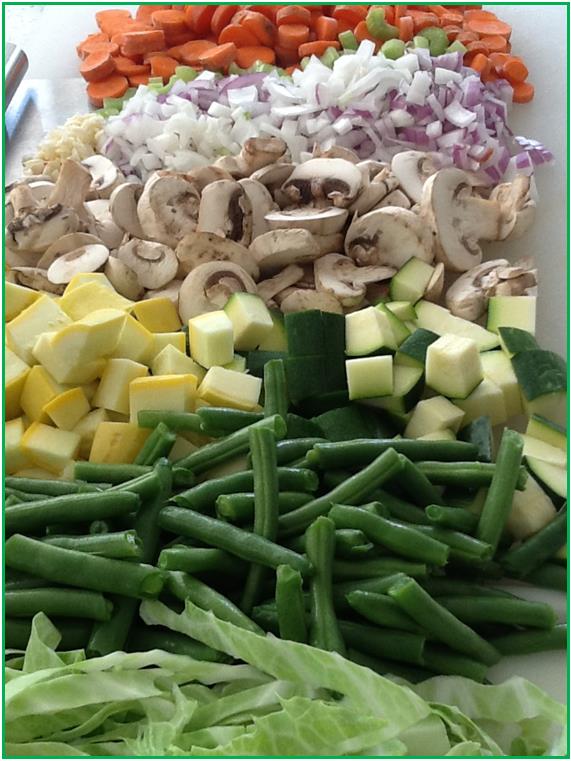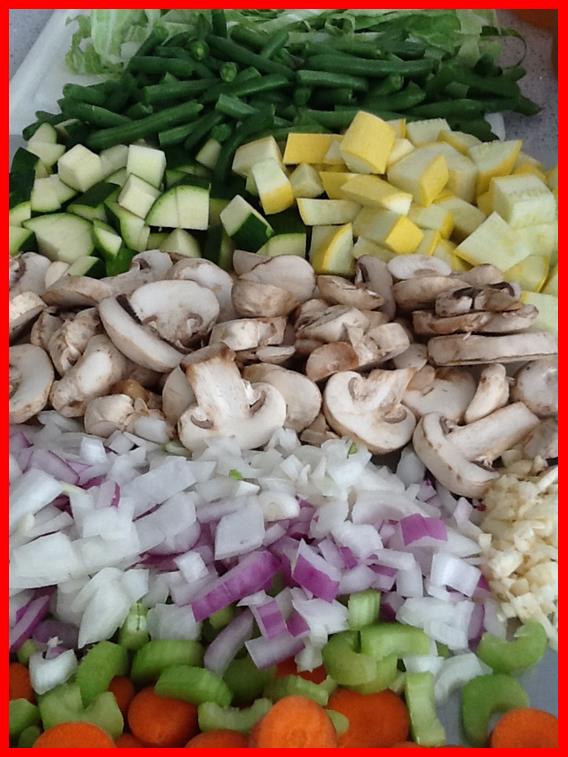 Ingredients:
Wash carefully
6 Carrots, large, cut into medium rounds
2 Celery Stalks, medium cut
4 Garlic Cloves, peeled and minced
1 # Mushrooms, cut in quarters
1 Zucchini, large, large dice
1 Yellow Squash, large dice
1 C Peas, frozen are ok
1/2 # Green Beans, trimmed and halved if large
6 Cabbage Leaves, rolled and sliced into very thin strips
1/2 C+  Garbanzo Beans
1/2 C+ Black Beans
3 C Vegetable Broth, homemade if you have it
2-3 C Spaghetti Sauce, homemade or store bought*
That's it for the Prep!  Take a minute to view the lovely colors and shapes before you begin.  
Spray a large soup pot with non stick spray, then spray with a good olive oil.  If you don't have a sprayer for your olive oil, place 1 Tbs in the pan and heat it on medium high.  You want those first vegetables to really sizzle when you saute them; that begins your first flavor layer.  Begin with the carrots, onions and celery and saute until they begin to soften and you notice a lovely aroma.  Next add the garlic and continue to saute for another minute or two.  Do not take your eyes off of the pan during these first few minutes or you may burn them - not something you can recover from.
Turn your heat down to medium and add the zucchini, yellow squash and mushrooms continue cooking until the mushrooms begin to shrink, then add the garbanzo and black beans.  Pour the vegetable broth and red sauce over the vegetables.  You may raise the heat once again until the liquid begins to boil then lower it to a rapid simmer.  Add the green beans and cabbage strip. You may add additional liquid if it gets too thick. Simmer until the cabbage is cooked.
Seasonings:  
Basil
Oregano
Thyme
Rosemary
Salt
How much seasoning you use will greatly depend on how flavorful your red sauce is.  You may only need a little salt and pepper or you may want to add any or all of the listed seasonings.  Begin with only 1/2 tsp each and then continue to add more until your soup tastes perfect!
It is impossible to not end up with an absolutely delicious soup!
A large bowl served with a crusty bread or crackers makes a very satisfying meal.  Or, a small bowl is a beautiful first course to a more formal meal.
Buon Appetito

from Vegan Minestrone back to HomePage