A Twist on Classic Waldorf Salad, 
Cool and Refreshing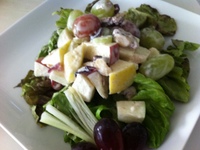 Summery, cool and refreshing a little twist on a classic Waldorf Salad is crisp and delicious. We have served this to guests for a breakfast buffet in martini glasses and as part of a trio for luncheons (Waldorf, Chicken Salad, Garden Salad) and it is always met with rave reviews! We eat it for dinner. It is perfect to take along on a picnic or to the beach, in plastic glasses, if you have a way to keep it cool. You might want to coat the rim in a little salt and a touch of colored sugar for that extra WOW factor. So, what are we waiting for?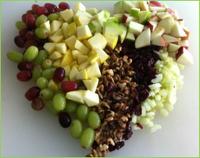 Ingredients and Instructions

Assemble Ingredients:

3 Apples, large, red, green and yellow
2 Celery Stalks, finely diced
1 Bunch Red Grapes, seedless
1 Bunch Green Grapes, seedless
1/2-1C Craisins
1C Walnuts, toasted, chopped (medium
) 1 Lemon, halved
2-4C Lettuce, Romaine or Red Leaf, chopped

for the Dressing:

1/2C Mayonnaise, good quality
1/4C Yogurt, plain
1 tsp Celery Salt
1/2 tsp White Pepper
1/2 Lemon, juiced
1-2 Tbs Honey (optional), perfect for kids

Whisk the Mayonnaise, Yogurt, Celery Salt, White Pepper and Lemon Juice together in a small bowl. Taste it. If you would like a touch of sweetness to it, add Honey, 1 tsp at a time. Better to go slow than to make it over sweet.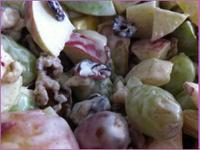 Sprinkle the apple with Lemon Juice and toss together well. (The lemon will prevent the apple from browning.) In a Large Bowl, put in the Lemon coated Apples, the Celery, Grapes, Craisins and Walnuts plus approximately 1/4C of Dressing. Mix with clean hands, gently. Continue to add more dressing in small amounts until it has the right amount for your taste. Now you are ready for plating. If you are using a plate or salad bowl, add a handful of the prepared lettuce as a bed for your Salad. You might want to skip the lettuce if you are serving it in a martini glass or glass bowl.
Tip: To rim a glass cover the bottom of a plate with Kosher Salt and add decorators Sugar, the color of your choice, and mix with the Salt. Wet your finger and run it along the rim of the glass. Turn the glass upside down into the sugar and turn the glass back and forth several times to coat it well. How beautiful is that?!

Plate It and wait for the Smiles and Ahhhhs!
from Waldorf Salad back to Refreshing Salads