Garden Salad
How beautiful is this! The Garden Salad that you make frequently transformed into a delicious work of art using the vegetables that you likely use each time you make it. Lettuce, tomatoes, cucumbers, a little onion (or a lot in our world), maybe a radish or two. That's all there is to it!

Making it extraordinary has to do with which kind of your favorite produce you purchase. Instead of the ordinary Red Tomato, look for a variety of heirloom tomatoes; they are gorgeous in color with a variety of shapes and varying sweetness.
| | |
| --- | --- |
| Generally, in our area at least, we do not find these lovely variations of produce in our local grocery stores. However, Farmer's Markets can often be an excellent resource or perhaps a gourmet market, the kind you see Ina Garten visit, offer a wonderful variety of less usual produce. And, that alone can make a huge difference in gourmet cooking and presentation vs just being a good cook.  | Heirloom Tomatoes in a variety of colors and shapes and multi-colored Carrots |
So, what are we waiting for?
Let's Get Cooking!
Ingredients and Instructions:

Assemble your vegetables of choice:
The quantities listed are merely a guide; use the quantity and the particular vegetables that you and your family are comfortable with.


1-1/2C Tomatoes, fresh and if possible heirloom varieties

1C Cucumbers, remove the seeds if they are tough

1/4-1/2 Onion, thinly sliced
1/2 C Radishes, sliced

3/4 C Carrots, thinly peeled (potato peeler run lengthwise)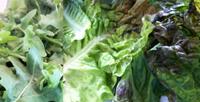 These are the main ingredients, however you might add black olives, garbanzo beans, artichoke hearts, avocado; the list is endless. Be creative!
Now be honest. How many times when you are grocery shopping do you run through the produce department and grab a head of iceberg lettuce as you pass through? It is neat, compact and requires no thought.
It is also tasteless, colorless and has little to no nutritional value. 
If you cannot make it to a Farmer's Market, look around your produce department for other possibilities. A combination of lettuces generally makes the most flavorful and visually appealing salads. Iceberg is good for the crunch factor, so use a proportionally small amount of it in combination with Romaine, Butter Leaf, Red Leaf or Arugula. We recommend three different lettuces and look for a balance of color, taste and crunchiness.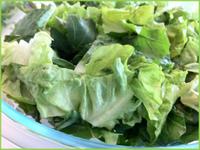 Tearing or Cutting? You may do either. Tearing is the proper technique IF you do not have a stainless steel blade on your knife. Other materials can cause browning on leaf ends and actually affect the taste of the lettuce. We generally cut to help keep the size somewhat uniform.

Once your cut or torn lettuce is in the bowl (always select one size larger than you think you'll need)you can add 3/4 of your prepared vegetables. Gently toss them together (clean hands are the best tool for this job) reserving the remaining 1/4 to add to the top for added color.
Pass your favorite dressing and await the happily surprised faces of your family as you present this extraordinary Garden Salad!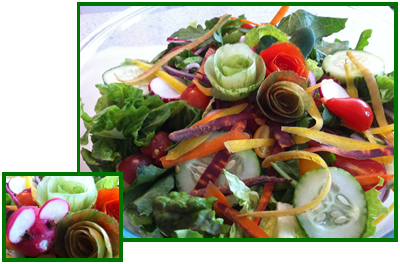 See Beautiful Touches for simple and lovely garnishes.

Hint: Don't put your dressing over the entire salad. If you do have leftovers the salad will likely become soggy in the refrigerator overnight while the undressed salad remains crisp.
From Garden Salad back to Salad Recipes