Warm Orzo Shrimp Salad

A dear friend of mine gave me this recipe which her daughter-in-law shared with her. In fact it was a family affair when they made it for the first time with her son and grandsons pitching in.
While there is nothing especially difficult in the preparation, there are three distinct steps, so I recommend that you read the instructions carefully before you begin and plan the order that is best for you. Of course, it has been broken down in the order that makes the most sense to me! So, what are we waiting for?
Let's Get Cooking!
Ingredients and Instructions:
The Dressing
1 Garlic Clove
2 Tbs Lemon Juice, fresh
1/4C Parsley, flat leaf, fresh
2 tsp Oregano, fresh
Salt and Pepper to taste
1/4C Olive Oil

Place all ingredients in a food processor or blender, and process until liquified and well blended.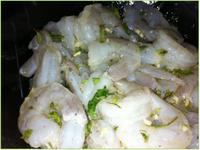 The Shrimp
2 Garlic Cloves, minced
1-1/2 Tbs Lemon Juice, fresh
1 Tbs Oregano, fresh, minced
1/4C Olive Oil, good quality
Salt and Pepper, to taste

1# Shrimp, medium (35-40 per pound)
Clean shrimp and devein (can be purchased deveined)
Place shrimp in a medium bowl. Whisk together all other ingredients and pour over the shrimp. Marinate the shrimp, chilled for an hour, turning occasionally.
Just before cooking the Orzo, cook the shrimp. It can be threaded on skewers and grilled, broiled, or sauteed. You do not want to toughen it by overcooking, so cook until it just turns pink and curls.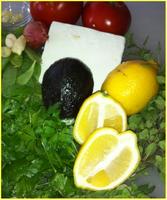 The Orzo
1-1/2C Orzo
1/2# Snow Peas

2 Tomatoes, vine ripened, cut bite sized
1-2 Avocados, peeled and cut into small pieces
6 Scallions (we used a Shallot), sliced
1C Parsley,Flat Leaf, chopped and packed
1C Ricotta Salada or Feta, cut into cubes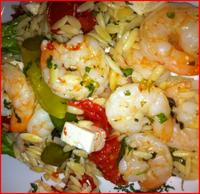 Once the prep work has been done, this dish comes together very quickly.
Cook the Shrimp. Remove from heat when pink and beginning to curl.
Bring a large pot of water to a full boil. Add Orzo and continue boiling for about 7 minutes, add Snow Peas and cook for another minute (only). Drain.
Put the Orzo and Snow Peas in a large bowl. Add Tomatoes, Cheese, Scallions, Avocado and Parsley. Toss gently until integrated. Add Shrimp and Dressing then toss again. Serve over lettuce either chopped or on one large leaf.
This is absolutely delicious warm, but tastes very good at room temperature, making it easy to serve to company
From Warm Shrimp Orzo Salad back to Salad Recipes