Taco Salad
Fun, Festive, Fabulous!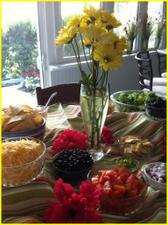 This Taco Salad dinner comes together in such an easy and natural way. If you have a bright table cloth, fresh flowers or a couple of candles, and a few bowls you have it made!

We made it for two but as we looked at it before serving, we both said 1/2 more of ground meat and it would serve six easily!
Our leftovers were put together in a plastic bag for a quick Taco dinner later on in the week. Doesn't get any better than that!

So, what are we waiting for?
Let's Get Cooking!
Ingredients and Instructions

1# Ground Beef, good quality (we used ground steak)

2-3Tbs Taco Seasoning, your favorite or home-blended
1C Tomatoes, diced

1/2C Onions, red, yellow or sweet, diced small

1C+ Cheese, cheddar or mixed blend, shredded

1C Corn, fresh or frozen (thawed)

1/2C Pepper, your choice

1 Can of Black Beans, rinsed and drained

1 Head of Lettuce, or a blend of three types
Over medium to medium high heat brown ground meat, breaking it up well as it cooks. When evenly brown, add 2-3 Tablespoons of your seasoning plus 1/4-1/2 of water. You don't want it too wet, just moist.Cook over low heat for an additional 7 minutes. When cool, place in a bowl.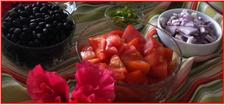 As you chop and dice the remaining ingredients, place them in individual bowls so that your family or friends can make their salads just the way they like it.
Add a bowl of Taco Chips and place the dressing (recipe follows) in a bowl and you are ready to eat! Easy, festive, fun, as promised.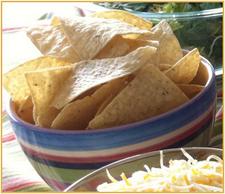 Dressing
In a small bowl whisk:

1/2C Mayonnaise, good quality

1/2C Yogurt, plain
2Tbsp Taco Seasoning, more to taste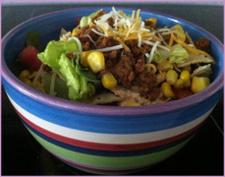 Whisk all ingredients together until well incorporated and slightly pink in color. Can be made ahead or just prior to serving.
The salad is equally good, of course, if you decide not to use a bowl for each addition, and you mix it together as one large salad.
The left over ingredients can be placed in small plastic bags, then put them together in one large zip bag for use with tacos later in the week.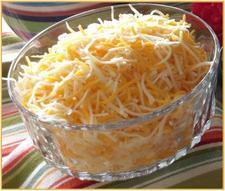 Olé! Please pass the cheese!
from Festive Taco Salad back to Salad Recipes